Sabbath-Study Hour, November 5 (p1) and 26 (p2), 2022 - "Ichabod, the Glory has departed!"
1
1Samuel 4:21-22
"And she named the child Ichabod, saying, The glory is departed from Israel: because the ark of God was taken, and because of her father in law and her husband. And she said, The glory is departed from Israel: for the ark of God is taken."


H350, אִי־כָבוֹד , 'ı̂y-kâbôd , ee-kaw-bode'
From H336 and H3519; (there is) no glory, that is, inglorious; Ikabod, a son of Phineas: - I-chabod.
2
Signs of the times, December 22, 1881
"The Lord sorely chastised his people Israel, revealing their hypocrisy and rebuking their presumption, and thus left upon the pages of history the testimony for all future ages, that the iniquities of his professed people will not go unpunished. The greater the knowledge of God's will, the greater the sin of those who disregard it."


Isaiah 1:21
"How is the faithful city become an harlot! it was full of judgment; righteousness lodged in it; but now murderers."


Jeremiah 3:3 
Therefore the showers have been withholden, and there hath been no latter rain; and thou hadst a whore's forehead, thou refusedst to be ashamed.""


RH Feb 19, 1914, par. 2
"God's favor toward Israel had always been conditional on their obedience."
3
4SP 19
"Had Israel as a nation preserved her allegiance to Heaven, Jerusalem would have stood forever, the elect metropolis of God. But the history of that favored people was a record of backsliding and rebellion. They had resisted Heaven's grace, abused their privileges, slighted their opportunities."


4SP 24
"But Israel had put from her the proffered gift of Heaven. With the humble Teacher who had that day passed out from its golden gate, the glory had forever departed from the temple. Already were fulfilled the Saviour's words, "Your house is left unto you desolate." [Matthew 23:38.]
4
Matthew 24:15-16
"When ye therefore shall see the abomination of desolation, spoken of by Daniel the prophet, stand in the holy place, (whoso readeth, let him understand:) Then let them which be in Judaea flee into the mountains: "


4SP 26
"When the idolatrous standards of the Romans should be set up in the holy ground, which extended some furlongs outside the city walls, then the followers of Christ were to find safety in flight. When the warning sign should be seen, judgment was to follow so quickly that those who would escape must make no delay. "


COL 305
"For the rejection of Christ, with the results that followed, they were responsible. A nation's sin and a nation's ruin were due to the religious leaders."
5
18LtMs, Ms 33, 1903, par. 13
"The Lord Jesus will always have a chosen people to serve Him. When the Jewish people rejected Christ, the Prince of life, He took from them the kingdom of God and gave it unto the Gentiles . God will continue to work on this principle with every branch of His work. When a church proves unfaithful to the Word of the Lord, whatever their position may be, however high and sacred their calling, the Lord can no longer work with them. Others are then chosen to bear important responsibilities . But if these in turn do not purify their lives from every wrong action; if they do not establish pure and holy principles in all their borders, then the Lord will grievously afflict and humble them and, unless they repent, will remove them from their place and make them a reproach."


Romans 11:1-2, 5
"I say then, Hath God cast away his people? God forbid. For I also am an Israelite, of the seed of Abraham, of the tribe of Benjamin. God hath not cast away his people which he foreknew... Even so then at this present time also there is a remnant according to the election of grace."


Romans 2:29
"But he is a Jew, which is one inwardly; and circumcision is that of the heart, in the spirit, and not in the letter; whose praise is not of men, but of God."
6
9T 19 (1909)
"In a special sense Seventh-day Adventists have been set in the world as watchmen and light bearers. To them has been entrusted the last warning for a perishing world. On them is shining wonderful light from the word of God. They have been given a work of the most solemn import—the proclamation of the first, second, and third angels' messages. There is no other work of so great importance. They are to allow nothing else to absorb their attention."


8T 67-68 (1898)
"Jerusalem is a representation of what the church will be if it refuses to walk in the light that God has given. Jerusalem was favored of God as the depositary of sacred trusts. But her people perverted the truth, and despised all entreaties and warnings. They would not respect His counsels. The temple courts were polluted with merchandise and robbery. Selfishness and love of mammon, envy and strife, were cherished. Everyone sought for gain from his quarter. Christ turned from them, saying: "O Jerusalem, Jerusalem," how can I give thee up? "How often would I have gathered thy children together, even as a hen gathereth her chickens under her wings, and ye would not!" Matthew 23:37. So Christ sorrows and weeps over our churches, over our institutions of learning, that have failed to meet the demand of God. He comes to investigate in Battle Creek, which has been moving in the same track as Jeru salem ... By rejecting God's warnings in this our day, men are repeating the sin of Jerusalem."


1T 596 (1867)
"At Battle Creek is the great heart of the work. Every pulsation is felt by the members of the body all over the field. If this great heart is in health, a vital circulation will be felt all through the body of Sabbathkeepers. If the heart is diseased, the languishing condition of every branch of the work will attest the fact."


4T 210 (1875)
" If the heart of the work becomes corrupt, the whole church, in its various branches and interests, scattered abroad over the face of the earth, suffers in consequence. Satan's chief work is at the headquarters of our faith ."
7
1867

1T 578 (1867)
"That night I dreamed that I was in Battle Creek looking out from the side glass at the door and saw a company marching up to the house, two and two. They looked stern and determined. I knew them well and turned to open the parlor door to receive them, but thought I would look again. The scene was changed. The company now presented the appearance of a Catholic procession. One bore in his hand a cross, another a reed. And as they approached, the one carrying a reed made a circle around the house, saying three times: "This house is proscribed. The goods must be confiscated. They have spoken against our holy order." Terror seized me, and I ran through the house, out of the north door, and found myself in the midst of a company, some of whom I knew, but I dared not speak a word to them for fear of being betrayed. I tried to seek a retired spot where I might weep and pray without meeting eager, inquisitive eyes wherever I turned. I repeated frequently: "If I could only understand this! If they will tell me what I have said or what I have done!" 1T 578.


Ministry Magazine, July 1997 edition.
"What are you waiting for… A sign? You've waited more than 150 years for the church to adopt an official, worldwide corporate identity. Fortunately, there is no need to wait any longer for your sign… Positive ID is the officially licensed supplier of the Seventh-day Adventist logo accessories so we can guarantee that your signage complies with the strict global identity standards required by the General Conference." (Back cover)


"The years 1996 and 1997 will go down in Seventh-day Adventist Church history as the era during which our church adopted and implemented a unified corporate image." ibid, page 31.

SOURCE: Ministry Magazine July 1997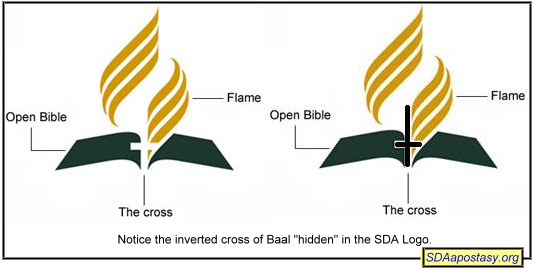 Adventist Review August 11, 1977, p. 23
"The book presented was the Adventist missionary book Faith in Action, and the medallion was a gold-covered symbol of the Seventh-day Adventist Church. The medallion is an engraved witness to the Adventist faith in Christ as Creator, Redeemer, and soon-coming Lord, in the cross and Bible…"

SOURCE: Adventist Review August 11, 1977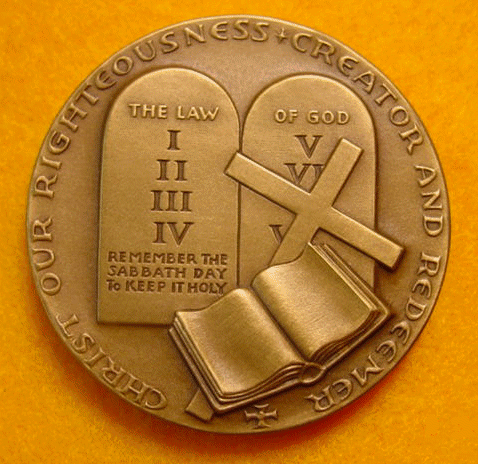 8
Adventist.news, Manila, Philippines, Jonathan Catolico/ANN Staff, March 7, 2005.
"General Conference. Philippines: Paulsen Lauds Church on Centennial, Meets Country's President -Seventh-day Adventists in the Philippines—numbering more than 1.3 million people—celebrated the centennial of the church in the 7,100-island republic on March 2 to 5. Philippines President Gloria Macapagal-Arroyo greeted Pastor Jan Paulsen, Adventist. The Human Cross. Seventh-day Adventists in the Philippines number more than 1.3 million people, 50,000 of them participated in this record breaking event."

SOURCE: Adventist.news, Manila, Philippines, March 7, 2005.


Manila Bulletin, Sun. February 27, 2005 by Edgar J. Tamayo
"Seventh Day Adventists to form biggest 'human cross' in RP history"



9
1000 Missionary Movement, Silang Cavite, Philippines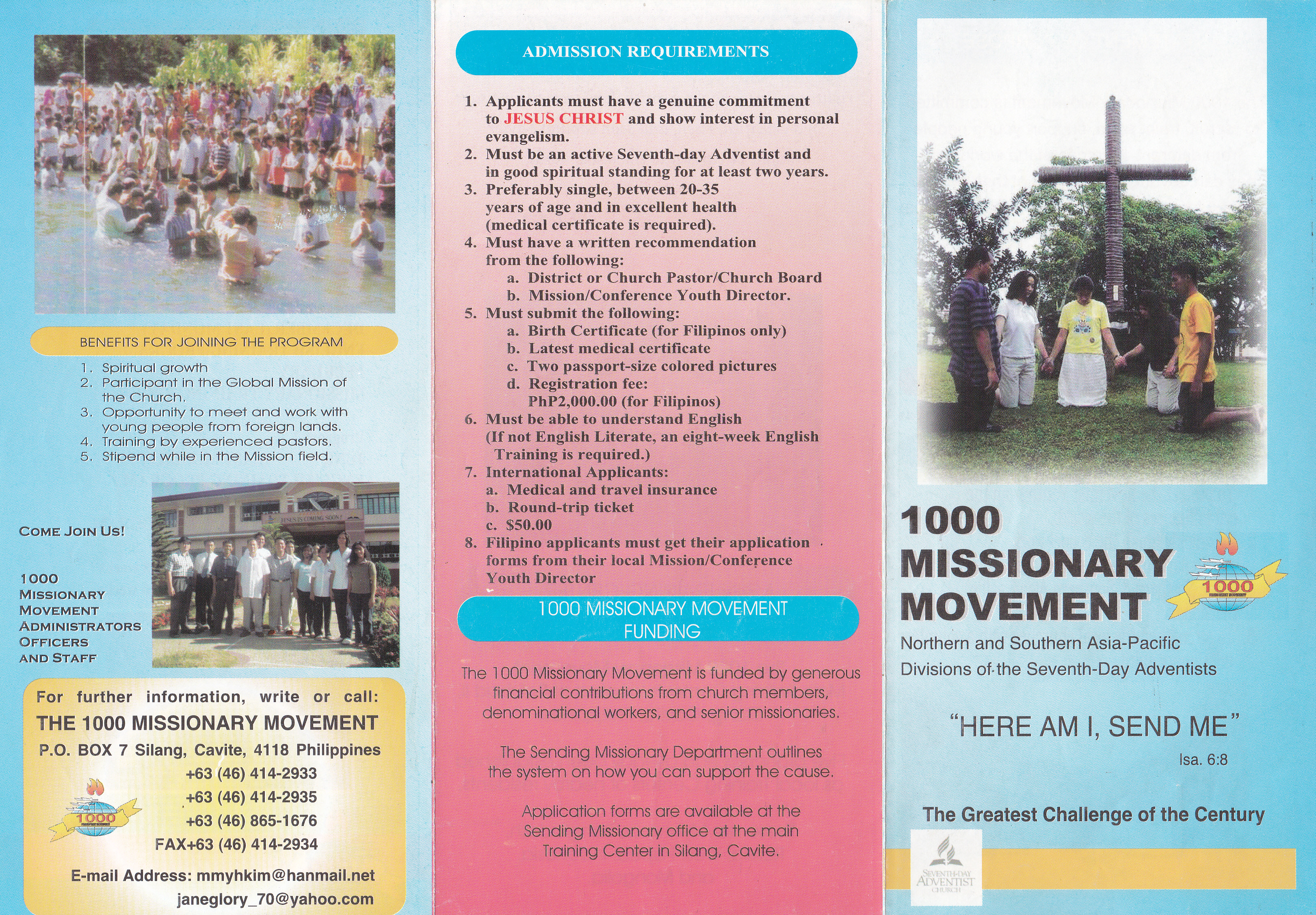 SDA CROSS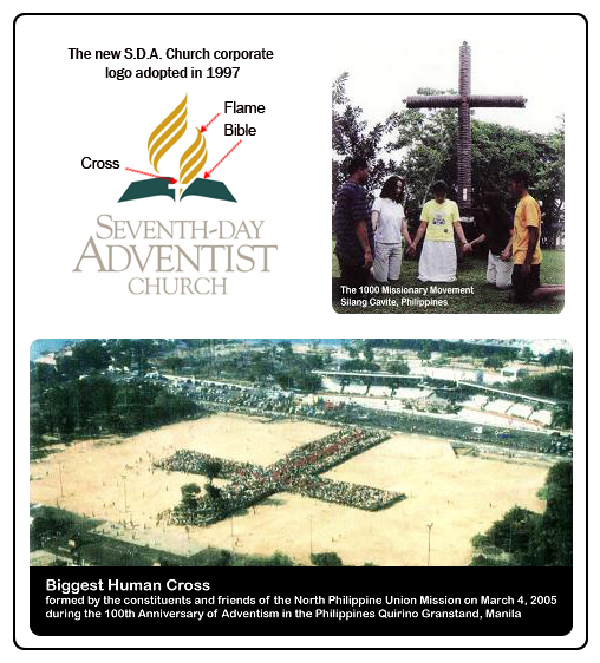 10
Is the cross a Christian symbol?

4SP 384
"There is a striking similarity between the church of Rome and the Jewish church at the time of Christ's first advent. ...As the Jews professed to revere the law, so do Romanists claim to reverence the cross. They exalt the symbol of Christ's sufferings , while in their lives they deny him whom it represents. Papists place crosses upon their churches, upon their altars, and upon their garments. Everywhere is seen the insignia of the cross. Everywhere it is outwardly honored and exalted . But the teachings of Christ are buried beneath a mass of senseless traditions, false interpretations, and rigorous exactions."
11
SUNDAY = ROMAN POWER

The Douay Cathechism, page 59
"QUESTION: How prove you that the Church hath power to command feasts and holy days?
ANSWER: By the very act of changing the Sabbath into Sunday, which Protestants allow of and therefore, they fondly contradict themselves by keeping Sunday strictly, and breaking most other feasts commanded by the same church.
QUESTION: How prove you that?
ANSWER: Because by keeping Sunday they acknowledge the Church's power to ordain feasts, and to command them under sin." The Douay Cathechism, page 59.
12
What is the badge of Christian?

ST August 12, 1908, par. 10.
"The badge of Christianity is not an outward sign, not the wearing of a cross or a crown, but it is that which reveals the union of man with God."



13
What is the badge of Christ according to SDA church?

Sabbath School Bible Study Guide, Apr-May-June 2005, Page 52
"His (Christ's) badge was a cross, not a crown."


Part 1 Ended - Listen to Study here remnantofgod.org/hc/mp3/110522study.mp3 .
14
Part 2 Start - 11-26-22


Ms 129, 1905, par.6
"The Lord has declared that the history of the past shall be rehearsed as we enter upon the closing work."


1SM 57
"Regarding the testimonies, nothing is ignored; nothing is cast aside; but time and place must be considered."


1868

2T 439-440, October 2, 1868
"I was shown the state of God's professed people. Many of them were in great darkness, yet seemed to be insensible of their true condition... Men who stand in very responsible positions at the heart of the work are asleep . Satan has paralyzed them in order that his plans and devices may not be discerned, while he is active to ensnare, deceive, and destroy."

"Some who occupy the position of watchmen to warn the people of danger have given up their watch and recline at ease. They are unfaithful sentinels. They remain inactive, while their wily foe enters the fort and works successfully by their side to tear down what God has commanded to be built up. They see that Satan is deceiving the inexperienced and unsuspecting; yet they take it all quietly, as though they had no special interest, as though these things did not concern them ."

"These reproofs and warnings disturb the quiet of these sleepy, ease-loving sentinels, and they are not pleased... These are the true feelings of many of our people. And Satan exults at his success in controlling the minds of so many who profess to be Christians. He has deceived them, benumbed their sensibilities, and planted his hellish banner right in their midst , and they are so completely deceived that they know not that it is he."


2T 337
"Men and women are in the last hours of probation, and yet are careless and stupid, and ministers have no power to arouse them; they are asleep themselves. Sleeping preachers preaching to a sleeping people!"


TODAY'S SDA CHURCH: Look at the Vatican flag flies at the 1995 General Conference and 2022 GC Session of Seventh-day Adventists Assembly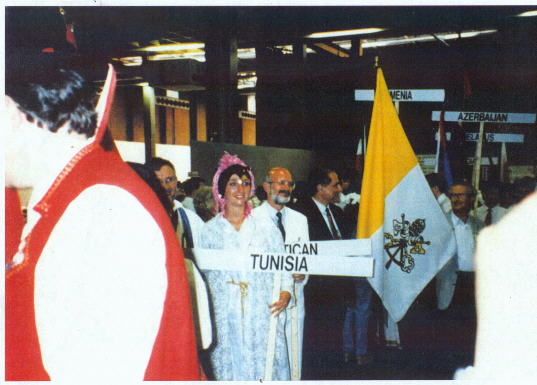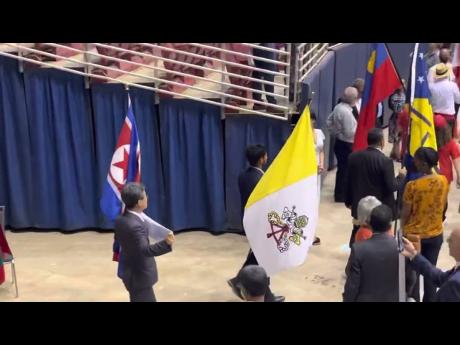 4SP 26.2
"When the idolatrous standards of the Romans should be set up in the holy ground, which extended some furlongs outside the city walls, then the followers of Christ were to find safety in flight. When the warning sign should be seen, judgment was to follow so quickly that those who would escape must make no delay. "


COL 281
"It is unsafe to delay obedience."
15
1875

4T 210-11, January 5, 1875
" If the heart of the work becomes corrupt, the whole church, in its various branches and interests, scattered abroad over the face of the earth, suffers in consequence. Satan's chief work is at the headquarters of our faith …
It is Satan's plan to weaken the faith of God's people in the Testimonies. Next follows skepticism in regard to the vital points of our faith, the pillars of our positions, then doubt as to the Holy Scriptures, and then the downward march to perdition . When the Testimonies, which were once believed, are doubted and given up, Satan knows the deceived ones will not stop at this; and he redoubles his efforts till he launches them into open rebellion, which becomes incurable and ends in destruction ."
16
1881

Special Testimony, p 80, July, 1881, Testimonies, vol 5, p 94-95. (Pamphlets PH117 page 80, Testimony for the Battle Creek)
"I saw that the very spirit of perjury, that would turn truth into falsehood, good into evil, and innocence into crime, is now active, doing a work which savors of hell rather than of heaven. Satan exults over the condition of God's professed people."
17
1882

5T 46, March 28, 1882
"I knew that a crisis must come. God has given this people plain and pointed testimonies to prevent this state of things. Had they obeyed the voice of the Holy Spirit in warning, counsel, and entreaty, they would now enjoy unity and peace. But these testimonies have not been heeded by those who professed to believe them, and as a result there has been a wide departure from God, and the withdrawal of his blessing."


5T 217, May 30, 1882
"I am filled with sadness when I think of our condition as a people. The Lord has not closed heaven to us, but our own course of continual backsliding has separated us from God. Pride, covetousness, and love of the world have lived in the heart without fear of banishment or condemnation. Grievous and presumptuous sins have dwelt among us. And yet the general opinion is that the church is flourishing and that peace and spiritual prosperity are in all her borders."

"The church has turned back from following Christ her Leader and is steadily retreating toward Egypt. Yet few are alarmed or astonished at their want of spiritual power. Doubt, and even disbelief of the testimonies of the Spirit of God, is leavening our churches everywhere . Satan would have it thus. Ministers who preach self instead of Christ would have it thus. The testimonies are unread and unappreciated. God has spoken to you. Light has been shining from His word and from the testimonies, and both have been slighted and disregarded. The result is apparent in the lack of purity and devotion and earnest faith among us."


5T 64, June 20, 1882
"I saw that the frown of God was upon His people for their assimilation to the world...Yet now when I send you a testimony of warning and reproof, many of you declare it to be merely the opinion of Sister White. You have thereby insulted the Spirit of God...."


5T 76, June 20, 1882
"I have been shown that the spirit of the world is fast leavening the church. You are following the same path as did ancient Israel."


5T 79, June 20, 1882
"What can I say to arouse our people? I tell you not a few ministers who stand before the people to explain the Scriptures are defiled. Their hearts are corrupt, their hands unclean. Yet many are crying, "Peace, peace;" and the workers of iniquity are not alarmed. The Lord's hand is not shortened that He cannot save, nor His ear heavy that He cannot hear; but it is our sins that have separated us from God. The church is corrupt because of her members who defile their bodies and pollute their souls… The prevailing spirit of our time is that of infidelity and apostasy--a spirit of pretended illumination because of a knowledge of the truth, but in reality of the blindest presumption. There is a spirit of opposition to the plain word of God and to the testimony of His Spirit. There is a spirit of idolatrous exaltation of mere human reason above the revealed wisdom of God."


5T 83, June 20, 1882
"We cannot be half the Lord's and half the world's. We are not God's people unless we are such entirely. Every weight, every besetting sin, must be laid aside. God's watchmen will not cry, "Peace, peace," when God has not spoken peace. The voice of the faithful watchmen will be heard: "Go ye out from thence, touch no unclean thing; go ye out of the midst of her; be ye clean that bear the vessels of the Lord."

"The church cannot measure herself by the world nor by the opinion of men nor by what she once was. Her faith and her position in the world as they now are must be compared with what they would have been if her course had been continually onward and upward. The church will be weighed in the balances of the sanctuary. IF her moral character and spiritual state do not correspond with the benefits and blessings God has conferred upon her, she will be found wanting. The light has been shining clear and definite upon her pathway, and the light of 1882 calls her to an account. IF her talents are unimproved, IF her fruit is not perfect before God, IF her light has become darkness, she is indeed found wanting . The knowledge of our state as God views it, seems to be hidden from us. We see, but perceive not; we hear, but do not understand; and we rest as unconcerned as if the pillar of cloud by day, and the pillar of fire by night, rested upon our sanctuary. We profess to know God, and to believe the truth, but in works deny Him. Our deeds are directly adverse to the principles of truth and righteousness, by which we profess to be governed."

(ORIGINAL SOURCE: Testimony for the Battle Creek Church Pamphlet #117 pages 41-66 dated June 20, 1882 "TESTIMONY REJECTED" NOTE: The GC leadership changed the title from the "Testimonies Rejected" to the "Testimonies Slighted" in 5T pages 62-84.)


Review and Herald, November 7, 1882
"We have enjoyed great light and many privileges. Shall we turn away from all these blessings, and sacrifice the peculiar, holy character which should distinguish us as children of God? If we thus slight the mercy of God, the judgments against Capernaum will surely fall upon us. Our punishment will be heavier than if we had not enjoyed so great light. Thus the warnings, reproofs, and counsels, which, accepted and obeyed, would bring us untold blessings, become a curse when they are rejected.... "Can Christ say of His professed followers, These are peculiar people; I gave Myself for them, to redeem them from all iniquity, that they should show forth My praise, who have called them out from darkness into My marvelous light. Would not the Lord say, rather, How is the beautiful city become a harlot, and My Father's house a place of merchandise. Because of your unbelief, I cannot do many mighty works among you."
18
1883

Review and Herald, October 16, 1883
"l will not shun to declare the whole counsel of God. Unpleasant as it may be, I must warn, reprove, rebuke, as God bids me, whether the carnal heart will accept or reject the words of warning. For forty years, Satan has made the most determined efforts to cut off this testimony from the church; but it has continued from year to year to warn the erring, to unmask the deceiver, to encourage the desponding. My trust is in God. I have learned not to be surprised at opposition in any form or from almost any source. I expect to be betrayed, as was my Master, by professed friends ."


Review and Herald, November 27, 1883 General Conference Committee on Resolutions.
"32. WHEREAS, Some of the bound volumes of the 'Testimonies to the Church,' are out of print, so that full sets cannot be obtained at the office; and,
"WHEREAS, There is a constant and urgent call for the reprinting of these volumes; therefore, resolved, That we recommend their republication in such a form as to make four volumes of seven or eight hundred pages each.
"33. WHEREAS, Many of these testimonies were written under the most unfavorable circumstances, the writer being too heavily pressed with anxiety and labor to devote critical thought to the grammatical perfection of the writings, and they were printed in such haste as to allow these imperfections to pass uncorrected; and ,
WHEREAS, We believe the light given by God to His servants is by the enlightenment of the mind, thus imparting the thoughts, and not (except in rare cases) the very words in which the ideas should be expressed; therefore, Resolved, That in the republication of these volumes, such verbal changes be made as to remove the above-named imperfections, as far as possible, without in any measure changing the thought; and further,
"34. Resolved, That this body appoint a committee of five to take charge of the republication of these volumes according to the above preambles and resolutions."

SOURCE: Review and Herald, November 27, 1883


1SM 57
"Regarding the testimonies, nothing is ignored; nothing is cast aside; but time and place must be considered. Nothing must be done untimely. Some matters must be withheld because some persons would make an improper use of the light given. Every jot and tittle is essential and must appear at an opportune time. In the past, the testimonies were carefully prepared before they were sent out for publication. And all matter is still carefully studied after the first writing."
19
Ministry Magazines, April 1994, p. 10-12 (By Ronald Graybill)
"Mrs. White's remarks concerning the revision were not recorded, but whatever she said the General conference session did NOT choose to cite her as authority for their action… Relatively few changes involved actual grammatical errors… The vast majority of wording changes did NOT involve grammatical errors at all."

SOURCE: Ministry Magazines, April 1994, p. 10-12


Adventist Review, Nov. 19, 1992, pp. 8-10.dventist Review, Nov. 19, 1992, pp. 8-10. (By Paul A. Gordon)
"Ellen G. White's Writings "Can We Legitimately Change, Abridge, or Simplify Them?": Is it legitimate to change, abridge, or simplify Ellen White's writings? The answer is yes. We can change, abridge, or simplify the words, but we do not have license to change the intended message. Here's why: Seventh-day Adventists do not hold to verbal inspiration. That means we do not believe that God dictated the words for Ellen White to use... In the years since Mrs. White's death in 1915, more than 50 new compilations or editions of Ellen White's books have been prepared by the E.G. White Estate. In every case–including editions that have been abridged, condensed, or simplified–the intended message has never been lost, only the wording has been changed."

SOURCE: Adventist Review, Nov. 19, 1992, pp. 8-10.



For more detailed information of SOP originals changes read the booklet entitled Reviving the original Spirit of Prophecy Writings!

Short Videos: NicholasPOGM Youtube Playlist- SDA Changed SOP
20
4LtMs, Letter 5, 1883
"All are given the same opportunity that was granted to the first rebel to demonstrate the spirit that moves them to action. It is God's purpose that everyone shall be tested and proved, to see whether he will be loyal or disloyal to the laws which govern the kingdom of heaven.... "Satan is preparing to work through his human agencies in secrecy...We must know the reasons of our faith... "Many are holding the truth only with the tips of their fingers. They have had great light and many privileges. Like Capernaum they have been exalted to heaven in this respect. In the time of test and trial that is approaching, they will become apostates unless they put away their pride and self-confidence, unless they have an entire transformation of character."

1SOP 11, 1870 "The testimony of Jesus," said the angel to John, "is the spirit of prophecy." Rev. 19: 10. It is the keeping of the commandments of God, and the recognition of the revival of the spirit of prophecy by the remnant of the church , or the Christians of the last generation, that stirs the ire of the dragon."



For more documentation of SDA apostasies, please visit SDAapostasy.org

For more detailed study on Ichabod - SDA Church history, please visit Ichabod - the Glory has departed!


Part 2 Ended - Listen to Study here remnantofgod.org/hc/mp3/112622study.mp3 .